James A. Harris opened his funeral home in July, 1962. The gracious setting was formerly the residence of the Robinson family. George W. Robinson, a London dry goods merchant, built the original home in 1871.
The original three story "Second Empire" Victorian manor, then located in a rural setting, became known as "Woodlawn". In the 1920's, George Robinson's son William oversaw extensive renovations. Like many homes in Old North London, it is filled with character, interesting details and classic fixtures and furnishings. George Robinson imported floor tiles from Italy, light fixtures from Czechoslovakia, and gumwood paneling from the southern States.
When the building became available in the mid-1950's, Jim Harris knew that this warm and spacious residence would lend itself well to memorial gatherings. The additions that he made over the years provide substantial areas for visitations and services. Renovations have been in keeping with the graciousness of the original home, and enhance its use as a place for people to meet.
With hard work and a well-earned reputation as a man of character and decency, Jim Harris saw his funeral home business grow. Over the years, in his quiet and respectful way, he helped many London families through very difficult times.
In 1994, his son Stephen joined the business as a funeral director. Along with his mother, Elizabeth, and staff, he has continued the tradition of caring begun by his father in 1962.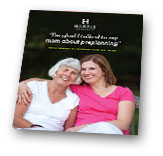 Check out Our Preplanning Guide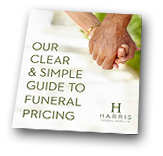 Check out Our new "Clear & Simple Funeral Pricing" guide will help you to easily determine costs for services you prefer