Your wishes are most important to us at Harris Funeral Home
 We endeavour to provide sensitive guidance in the creation of meaningful services. We know that every family is different and you can be confident that your preferences and traditions will be honoured in ways that are helpful, caring and unobtrusive.
Our new "Clear & Simple Funeral Pricing" guide will help you to easily determine costs for services that you prefer. A .pdf file is available to view or print by clicking here: HARRIS FUNERAL HOME, CLEAR & SIMPLE FUNERAL PRICING GUIDE
To start a discussion about preplanning or to obtain a full written estimate of cost, without obligation, please call or email.
Harris Funeral Home provides all manner of funeral and cremation arrangements. For information on cremation options, click above on cremation.
Preplanning is an increasingly popular option and need only cost a little of your time. We keep the process simple at Harris Funeral Home. You can meet with one of our directors at our office or in the comfort of your own home. You may prefer to simply leave a record of your wishes and we would be pleased to keep that on record. Your family will be grateful for this act of kindness. Should you wish to prepay arrangements, we can assist you with the necessary arrangements.
An After-Service Reception is always graciously hosted in our facility. Details are available by clicking on heading above.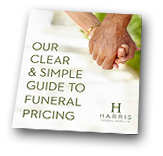 Check out Our new "Clear & Simple Funeral Pricing" guide will help you to easily determine costs for services you prefer