When considering decisions about funeral arrangements, sometimes the right questions prove most helpful.
Talk with us about the options that you are considering.
All of the funeral services that we provide are unique to the people whom we serve. And our beautiful venue can accommodate any type of gathering.
Our facilities are gracious, warm and home-like. We have bright, spacious and beautifully appointed visitation rooms. For services, our main chapel area accommodates gatherings of up to 150 people. If you prefer a private family service, our salon with adjacent sunroom is an intimate setting for a gathering of up to 30 people. Upholstered, solid cherrywood chairs are provided for all guests to services.
The funeral home is equipped with an excellent sound system, new video screens, Baby Grand Piano and organ. It is also a welcoming place to host a catered reception after a service.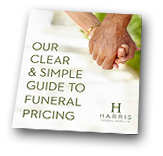 Check out Our new "Clear & Simple Funeral Pricing" guide will help you to easily determine costs for services you prefer